Traditionally power brakes rely on motor vacuum to operate. However in particular in diesel setups or modern cars where there is not much vacuum or should be left undisturbed, often there already is an additional electric vacuum pump in place. When converting to electric, there no longer is any motor vacuum for power brakes available. The easiest and most straightforward solution is to add such a electric vacuum pump. They have one big disadvantage: they are noisy!
Of course next to a diesel engine you will not even notice it, but in an electric vehicle you do. Personally I could not stand the idea of the sound of a vacuum pump kicking in to build up a vacuum buffer as soon as you enable the car so I implemented electric power brakes. However, before doing so I did some research on vacuum pumps and looked for a 'silent' one.
The quest for a silent vacuum pump
In my longlist I compared some pumps from Hella and a Mes-Dea. The Ford A426C was left out of the equation since it was more difficult to source (although it should be a silent one). In the below table you will find the specs of the Mes-Dea and the four Hella pumps.
| Type | Current | 70% from ambient pressure | Volume | Acoustics |
| --- | --- | --- | --- | --- |
| Mes-Dea 70/6E2 | < 5 A | 5 sec (2 liters tank) | | < 64 dB (A) |
| Hella UP28 | < 10 A | ≤ 11 s | 3,2 l | < 70 db (A) |
| Hella UP30 | < 15 A | ≤ 7 s | 4 l | < 77 db (A) |
| Hella UP32 | < 18 A | ≤ 6,2 s | 5 l | < 78 db (A) |
| Hella UP5X | < 15 A | ≤ 4,4 s | 4 l | < 73 db (A) |
The UP28 is the smallest Hella pump and found in many cars like Volvo and Opel. The UP5X is really a beefy pump and found in the Aston Martin Vantage. The Mes-Dea is found in a.o. the Tesla Roadster.
In any case it is recommended to add a vacuum tank as a buffer. The Mes-Dea 70/6E2 features an internal pressure sensor allowing the pump to switch on and off automatically. The Hella pumps require an external vacuum switch (available in the webshop).
Bench testing vacuum pumps
I tested the two "most silent" pumps:
Hella UP-28
Mes-Dea 70/6E2
While it was a bit difficult to keep the Mes-Dea running continuously during the test due to the integrated sensor I managed to compare the two.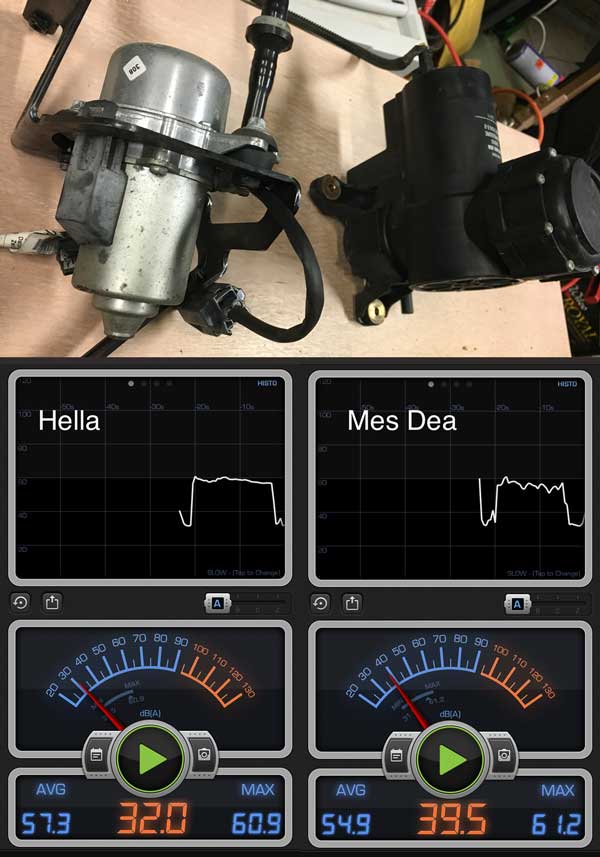 dB versus dB(A)
I measured in dB(A), so with a correction for the sensitivity of our ears. In absolute dB's the pumps are equally loud but the tone of the Hella is higher and we are more sensitive to that freqency.
There is a difference of 2,5 to 3 dB between the pumps. This seems little but the scale is logarithmic and the experience of noise is subjective. So in practice the difference is a factor 3 on experienced intensity.
The verdict
So if you're not into implementing electric power brakes, I'd suggest to use a Mes-Dea 70/6E2 if you can find one. Officially the UP-28 is a helper pump but in most setups a Hella UP-28 pump plus reasonably sized buffer will do for your vacuum power brakes, but some additional sound proofing might be needed.
Update: After the Mes Dea 70/6E2 the Hella UP5x is the next best option
While the Mes-Dea 70/6E2 is hard to find nowadays, the Hella UP5x is in my view the best available alternative. Update: I managed to find some new Tesla Roadster vacuum pumps. Grab one while you can!
For both pumps a connector kit is available.
Blog series on power brakes
Vacuum assisted power brakes
Performance test of the Tesla iBooster