As mentioned in my introduction into DC fast charging in the end CCS will become the dominating standard for DC fast charging. However the CHAdeMO infrastructure is not expected to shrink fast so at the moment it is still a good opportunity. In particular since implementhing CHAdeMO in a DIY setting is much more straightforward and (thus) cheaper compared to CCS. For example with my CHAdeMO controller.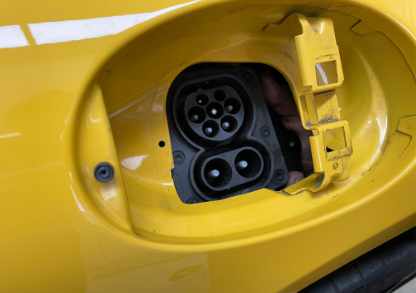 Yet in the end the CCS charging infrastructure will keep improving so working on CCS DC fast charge solutions for DIY is important and they are emerging! I try to continue to update this blogpost. If you gave a working DIY CCS implementation using any of the below approaches or others, please let me know.
Early days of aftermarket CCS fast charging in DIY
There are a few aftermarket CCS DC fast charge controllers around. However these units are far from plug and play and still require significant implementation efforts.
At the moment there are two aftermarket solutions I am aware of that are (more or less) plug and play. One is a CCS fast charging upgrade installed 'as a service' by Muxsan and is specifically geared towards the Nissan Leaf and e-NV200 that already have their range extender. The other one is a CCS Type2 Fast Charging Kit by Zero EV in the UK to be used with Orion 2 BMS. I am under the impression that both solutions are based on the Vector VC-EVCC (.pdf) charging ECU.
Together with Ruben from 2CV Électrique I am also working on a CCS implementation. It is based on a 22 kW Onboard Charger that also facilitates the CCS process. Two cars are currently on the road and we are working on some further fine tuning. After that it will become available as a kit.
There are a few more aftermarket controller solutions out there such as the one from Advantics but I have not studied those in detail or have had a chance to play around with them. So will add more later. Please contact me if you have more info or experience to share which I can add.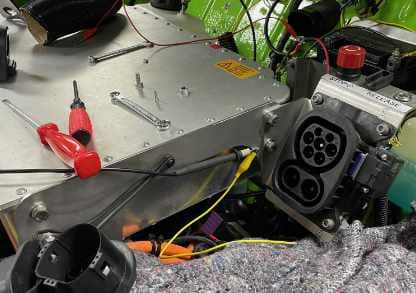 Using OEM components to implement CCS
The above mentioned aftermarket solutions have one disadvantage in common: they are relatively expensive. There are many production electric vehicles equipped with CCS. So reusing components is an interesting opportunity. Within the DIY EV community there have been efforts on reverse engineering components from Tesla, Hyundai and BMW. In the end Damien (EVbmw.com) was the one who took the lead in reverse engineering the BMW i3 LIM. With success!
BMW i3 LIM
Already on June 8th Damien had his first successful i3 LIM hacked CCS charging session.
First CCS Success from Damien Maguire on Vimeo. Please consider supporting him on Patreon: EVbwm.
Basically the Openinverter Wiki: BMW I3 Fast Charging LIM Module covers everything you need so I am not going to replicate any of that over here.
There are some pieces of the puzzle that I'm offering. The Voltage Sense Board which senses the voltage at the socket. This function is normally performed by the KLE in the BMW i3. Furthermore a connector kit and (soon) the required 15,3 Ohm contactors will be available.
I'm hoping to add more soon so you will be able to but a complete kit. Ideally including the LIM and a supporting controller.
Other OEMs
Work has also been done on the Tesla fast charge ECU but as far as I know that case never got cracked. I also bought a charge control unit from a Kona which could also be an interesting candidate.
This paragraph will be updated as soon as more details are available.
Blog series on DC fast charging
CCS fast charging in DIY
Feedback welcome
Any feedback, additions, suggestions for improvement is welcome. Please contact me by e-mail.
Share & link
Do you like this article? Please share and link (and not copy paste).