Enabling your electric car conversion project
Keeping classic cars on the road by converting to full electric
Bring your build to the next level by using parts from Tesla and others. Reverse engineered, with pinout diagram, connectors and crimp pins.
Visit our webshop!
Check out all products in our webshop!
More soon….
More parts will be added soon. For example coolant valves, AC compressor, airconditioning valves and Tesla battery heater. You can contact me if you need something.
Co-creating electric vehicle conversions
In my own conversion project I learned a lot about EV setup, component selection, 3D design / CAD, microcontrollers and electronics and more. Now I am helping others to convert their car to full electric. Benefit from my lessons learned and accelerate your build. Contact me to discuss and generate ideas.
EV conversion kit selection
Wondering what kind of components can be used in your conversion? I can help you in deciding what motor, controller, batteries and other components are needed. Depending on your budget and range and performance requirements.
Design and development
Whether you need help in you (high voltage) wiring diagram design, cooling system calculations, airconditioning and battery temperature management, 3D CAD design or even PCB design, I am happy to think and work along. It's about co-creating what you need to achieve what you want.
Hands on support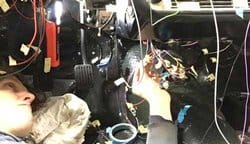 Depending on your location I can also help you out physically creating things. If you live in the Netherlands that can be on-site but otherwise perhaps I can prepare stuff remotely.